The city is a reasonable and cheap place to travel in Vietnam
Ho Chi Minh City has always been a city known to be a bustling city with extremely cheap prices. If you travel to Ho Chi Minh City and want a new experience, then this will be the place for you.
If you travel with the element of experience and do not need to stay in a luxurious place, there are many hostels and cheap hotels in Ho Chi Minh City with only 7-15 USD/night. Budget hotels and hostels are available in many Ho Chi Minh City and you can easily choose. In addition, there are 2 to 3-star hotels that are only from 12-25 USD/night (300.000 VND-600.000 VND) but have full facilities such as television, internet, room service, free tea, and coffee with full amenities for tourists.
Cheap transportation cost:
When you travel to Ho Chi Minh City, you will easily encounter the most frequent public transport, which is the bus. The bus is a familiar means for people here because its price is very cheap, only 7.000 VND/turn, equivalent to 0.23$. This will save you quite a bit of money compared to catching a taxi.
Tasty street food under 2$
Tourists will be surprised when traveling to Ho Chi Minh City because street food is extremely cheap but extremely delicious and worth trying. Some famous street foods under 2$ (50.000 VND) can be mentioned as Banh Mi, Goi Cuon – Vietnamese Spring Roll, Bap Xao – Stir Fried Corn, Vietnamese Coffee…
In Ho Chi Minh City, there are many large wholesale markets, so the prices of the items are extremely cheap and tourists can buy unique items as gifts. Tourists can still pay the fee when buying things at markets such as Ben Thanh Market, An Dong Market…
However, tourists should also be careful with cheap services and cheap hotels because it can be a scam and you will lose money and not bring 100% of the local experience. This will lead to unhappy things when traveling to Ho Chi Minh City. Tourists should consider choosing quality and reputable travel services as well as choosing tours to ensure quality and safety. Tourists can choose AN Tours Vietnam's food tour service for only $39/person and free for children under 5 years old, but the tour offers a real-life experience of being a local for a day. The food tour will include a friendly and attentive guide, a private tour, experience 7-9 traditional Vietnamese dishes like nowhere else, and a mini cooking class to experience Vietnamese food making.
Book the tour at Local Night Food Tour By Scooters – Saigon
Having the largest tunnel systems in the country
Cu Chi Tunnels located on Provincial Road 15, Phu Hiep Hamlet, Phu My Hung Commune, Cu Chi District, Ho Chi Minh City, is an important historical relic for our country. This is also one of the top tourist destinations in Saigon and Cu Chi that you should not ignore. Cu Chi Tunnels is not only the largest tunnel system in Vietnam but also among the top largest underground works in the world. Dubbed the "city in the ground", Cu Chi Tunnels is famous for its solid and sophisticated defense system in the ground, dug by the Viet Minh resistance and the National Liberation Front of South Vietnam during the Indochina War and the Vietnam War. The tunnel system is not only a shelter but has become a place for living, military meetings, ambulances, manufacturing, and storing weapons. With a 250 km-long tunnel system, inside the tunnels are full of works such as trenches, food storage, kitchens, water wells, living rooms, offices, and infirmaries … as continuous as a spider's web, Cu Chi has turned Cu Chi into a solid base for our troops and people in the resistance war against the US.
Cu Chi Tunnels are divided into 3 floors including:
First floor: The first floor of the Cu Chi Tunnel is 2.5-3 meters deep underground. Can withstand artillery shells as well as the weight of tanks and armored vehicles. This place is mainly air ducts, traps, kitchens…
Second Floor: 4-6 meters deep from the ground, capable of resisting small bombs. It can withstand small bombs. This floor is mostly the passages with a variety of traps, antis, some rest areas, shelters, and ambushes.
Third floor: 8 to 10 even 12 meters deep. It can withstand most bombs. The last floor of the tunnels includes a resting place for officers, a military medical station, a weapon store, a place for cultural activities, and a meeting to discuss combat plans. 
Coming to Cu Chi Tunnels, tourists will experience many interesting activities such as visiting Rice Paper Village and experiencing rice paper making, watching short videos about the Vietnam War, seeing the ancient armory, and experiencing crawling in the tunnels. The interesting thing about the Cu Chi tour is to experience the food that Vietnamese soldiers ate during the war and to visit the memorial temple and experience actual shooting.
Book the tour at Cu Chi Tunnels tour
Ho Chi Minh City is the convergence of culinary from all regions of Vietnam
When you travel to Ho Chi Minh City, you will discover that this is a place with a developed economy, so there are many people from the North and Central regions immigrating here. That's why Ho Chi Minh City has rich and diverse cuisine. The cuisine here especially converges to the quintessence of the North, Central, and South regions. Each dish of each region has its characteristics and is highly recommended to try if you have the opportunity to travel to Ho Chi Minh City.
Northern dishes have a delicate and harmonious and traditional character. The taste of Northern food always has a distinct feature. Referring to the North, it is impossible to mention Bun Cha Ha Noi – Rice Noodles With Vietnamese Grilled Pork, Bun Thang – Hanoi Chicken Combo Noodle Soup, and Pho – Noodle Soup. The indispensable seasoning of the Northern people is monosodium glutamate and the featured dishes on the rice tray are attractive braised dishes.
Pho – Noodle Soup
Bun Cha Ha Noi – Rice Noodles With Vietnamese Grilled Pork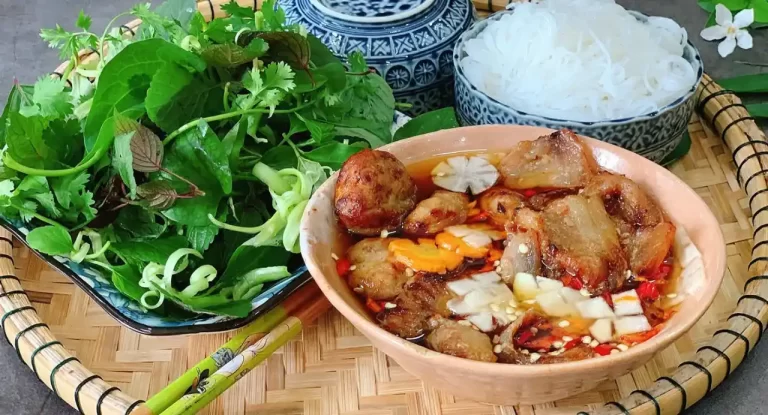 Bun Thang – Hanoi Chicken Combo Noodle Soup
Southerners are liberal and simple. Therefore, going from daily activities to the way of preparing food is close, idyllic, and simple. With an interlaced river system, the seafood source here is always abundant according to the seasons of the year. Therefore, when it comes to Southern cuisine, people will mention attractive dishes like Com Tam – Broken Rice, Hu Tieu Nam Vang – Nam Vang Rice Noodles, and Banh Xeo – Vietnamese Crepe.
Com Tam – Broken Rice
Hu Tieu Nam Vang – Nam Vang Rice Noodle
Banh Xeo – Vietnamese Crepe
When it comes to Central dishes, almost everyone will immediately remember the intense spicy taste to the throat. Central people have a habit of eating spicy food and most dishes use this spice. Therefore, it is understandable why, in the meal of the Central people, there is always a cup of chili garlic sauce or a plate of fresh chili fruit. The harsh climate of the country's waste has created people in the Central region who are spontaneous and salty. This also affects the simple eating style of the Central people. Some famous dishes of Central are Bun Bo Hue – Hue Beef Noodle Soup, Mi Quang – Quang Noodles, and Banh Bot Loc – Rice Dumpling Cake. 
Bun Bo Hue – Hue Beef Noodle Soup
Banh Bot Loc – Rice Dumpling Cake
The place is known as the city that never sleeps in Vietnam
The special thing when traveling to Ho Chi Minh City is to enjoy the space filled with colors by the neon lights in Ho Chi Minh City when night falls. Ho Chi Minh City, whether at night or during the day, the city is always bustling and bustling with people, and at night, the atmosphere becomes more vibrant than ever. Saigon life at night is complete "makeover" more when it is late at night with many places to play, eat and drink, extremely bustling and vibrant all night until morning. At that time, Saigon began to take place in other exciting activities. You can find your joy, such as meeting friends, eating, enjoying sweet moments with friends, going shopping, … after a long day of hard work or study.
At night, Nguyen Hue Walking Street is crowded with people passing by. Brilliant lighting systems from restaurants, cafes, and large buildings. Besides, there are groups of young people, and art enthusiasts that gather to perform along the street, especially on weekends.
If tourists travel to Ho Chi Minh City, they cannot help but come to Bui Vien pedestrian street. This is where many bars with lively music are gathered, thus attracting a lot of foreign tourists to come here for entertainment.
Unique historical architectures
Ho Chi Minh City has many historical architectural works and is very famous among the foreign tourist community. These works are not only old but also have a lot of historical significance for the people of Ho Chi Minh City.
Some famous architecture:
Independence Palace: completed in 1871, the Independence Palace is a historical relic preserving the proud milestones of our nation in the struggle to defend the country. With that great meaning, this place always attracts a lot of tourists from all over the world to visit.
Opera House: Ho Chi Minh City Opera House was started in 1898, and completed 2 years later with Gothic-style architecture that flourished in France at the end of the 19th century. This work was designed by a group of French architects, characterized by a skillful combination of architecture and sculpture. From the outside to the interior of the Theater, there are many reliefs and statues. This is an architectural work of high art and is the venue for many musical activities.
Notre Dame Cathedral: This is a large and unique Catholic church, belonging to the Archdiocese of Ho Chi Minh City. In August 1876, the church was officially built by architect J. Bourard, responsible for design and construction, and completed on October 7, 1877. Notre Dame Cathedral in Ho Chi Minh City is a tourist attraction attracting many domestic and foreign tourists.
The City of "free things"
When traveling to Ho Chi Minh City, tourists will notice things that are simple but extremely lovely. It is not an exaggeration but Ho Chi Minh City is an easy place to integrate because the people are friendly and always ready to help each other when needed. If you walk on the street, you will easily come across free buckets of free iced tea that anyone can drink without paying. In addition, in Ho Chi Minh City, some restaurants regularly have free rice. The free things that are only available in Ho Chi Minh City partly show that the people are generous, friendly, and ready to help when others are in trouble, which is the highlight that others know about this hospitable city.
District 5 - The oldest and largest Chinatown in Ho Chi Minh City
If you travel to Ho Chi Minh City, visit Chinatown in District 5 to learn about the unique culture but still retain the traditional features of the Chinese people in Ho Chi Minh City. Chinatown, also known as "Cho Lon", was formed in the 17th century. The Chinese community has migrated here and built a bustling and crowded urban area. At the time of the French invasion of Vietnam, Cho Lon – Chinatown was a separate area from Ho Chi Minh City and today, Cho Lon is now located in District 5 of Ho Chi Minh City.
It's called Cho Lon because that's where there used to be two very big markets. The latter market was bigger than the previous one. Today, the name Cho Lon refers to a large area on the north bank of the Ben Nghe – Tau Hu Canal in Ho Chi Minh City. Currently, Cho Lon is considered the largest "Chinatown" in the world.
When coming to Chinatown, visitors will see the architecture of houses, pagodas, and markets with Chinese design style because the population here is mainly from Guangdong and Fujian provinces. The items sold in Cho Lon are also unique because this is the largest wholesale market in the country, tourists can buy souvenirs here because of the cheap prices. The characteristic of Chinatown is that you will hear the people here communicating with each other entirely in Chinese as well as in the Chinatown area selling a lot of delicious and attractive Chinese dishes such as dumplings, satay deer noodles, roasted duck, etc. If you have a chance to visit Ho Chi Minh City, visit District 5 – Chinatown of Ho Chi Minh City to understand more about the culture of the Chinese living in Ho Chi Minh City.
Voted as the top place in hospitality by tourists
Ho Chi Minh City has always been a favorite destination of many tourists from many countries around the world and the number of tourists coming to Ho Chi Minh City is increasing day by day. The reason why Ho Chi Minh City is always an ideal tourist city is because it has many new and innovative tourism activities to serve the travel needs of visitors. The photo print is a tour of the Cu Chi tunnels combined with fruit picking directly in the garden and enjoying folk music. In addition, tours are also increasingly attractive and bring one-of-a-kind experiences to tourists.
The Ho Chi Minh City Department of Tourism has just announced that international visitors to Ho Chi Minh City in March 2023, the number of international visitors to Vietnam reached 895.4 thousand arrivals, down 4% compared to the previous month, but increased by 2.8% over January. In the first quarter, Vietnam welcomed 2.7 million international visitor arrivals, 29.7 times higher than the same period in 2022.
Hidden alleyways - a specialty of Ho Chi Minh City
mall alleyways are typical of Ho Chi Minh City. The inside of the alleyways also reflects the miniature society of the city. Each house in the alley close to each other shows a very high sense of community in communication, behavior, and neighborly relations, in all marriage and funeral ceremonies. The alley is a place to live and at the same time a place to meet, exchange, party, and gather at tea time. The alleyways are also a playground, entertainment … and also a place to display an indoor grocery store, open a cafe in the garden, put a sugarcane juice cart, a bread stall, and even a load of sticky rice and tea in the corner of the alleyways, at the foot of the electric pole. In the small alleys can be a hidden place waiting for you to discover. The special thing about the alleys in Ho Chi Minh City is that most of the delicious and attractive eateries are concentrated in small alleys and you need to walk inside to enjoy.
Ho Chi Minh City is a city that tourists should visit once in their life not only because of its attractive street food, and cheap travel, but also friendly and extremely hospitable people. If you are planning to travel to Ho Chi Minh City but don't know where to go or what to do, contact AN Tours Vietnam, we always have private tours full of experiences for tourists.
Amazing tours when traveling to Ho Chi Minh City:
Local Night Food Tour By Scooters
See more at AN Tour Vietnam