1. Ben Duoc and Ben Dinh: Still Cu Chi Tunnels, just different sites
Ben Dinh is one of the sections of the Cu Chi Tunnels, located in Vietnam's Cu Chi district. It is known for its proximity to Ho Chi Minh City, making it a convenient destination for tourists. Ben Dinh has wider tunnels, some of which have been modified to accommodate visitors. This section is much closer to Ho Chi Minh City center (more than 12 kilometers) than Ben Duoc, another part of the Cu Chi Tunnel.
Ben Duoc is another section of the Cu Chi Tunnels, situated in the Cu Chi district of Vietnam. Unlike its counterpart, Ben Duoc is known for preserving the tunnels in a more authentic and original state. It offers a deeper, immersive historical experience, showcasing the resilience and resourcefulness of the Vietnamese soldiers during the Vietnam War. Located further from Ho Chi Minh City, Ben Duoc is less crowded and provides a tranquil environment, allowing visitors to explore the tunnels and gain a profound understanding of the challenges faced by those who lived and fought there.
2. Why Ben Duoc Triumphs Over Ben Dinh
One of the foremost reasons to choose Ben Duoc over Ben Dinh is the commitment to preserving the tunnels in their most authentic state. Ben Duoc has maintained a more original and narrower tunnel structure, ensuring that visitors experience the tunnels as closely as possible to how they were during the war. This authenticity adds depth to the visit, allowing tourists to grasp the true hardships and resourcefulness of the Vietnamese soldiers who utilized these underground passages.
Ben Duoc holds an esteemed place in the annals of the Vietnam War. It served as a critical base for the Viet Cong, the guerrilla force resisting American and South Vietnamese troops. As a result, Ben Duoc features numerous historical artifacts and remnants of war, including weapons, booby traps, and living quarters. These artifacts provide an invaluable insight into the lives and struggles of the soldiers who fought there. Ben Dinh, while historically significant, lacks the same depth of historical artifacts and context.
In terms of tunnel complexity, Ben Duoc outshines Ben Dinh. The tunnels at Ben Duoc extend deeper into the Cu Chi countryside, showcasing remarkable engineering and survival skills. Visitors can explore different tunnel levels, including meeting rooms, storage areas, kitchens, and even makeshift hospitals. This intricate network reveals the ingenious tactics employed by the Viet Cong and offers a more comprehensive understanding of their resourcefulness and resilience.
Much Less Touristy and More Reflective
Ben Duoc offers a quieter and more reflective experience in contrast to the often crowded Ben Dinh. Visitors can take their time to explore the tunnels, listen attentively to the guides, and absorb the historical significance without the distractions of large crowds. This tranquility allows for a more profound connection with the history and the environment.
Located in a serene, rural setting amidst lush greenery and picturesque landscapes, Ben Duoc's surroundings provide a stark but poignant contrast to its wartime history. The peaceful atmosphere allows visitors to contemplate the resilience and determination of those who lived and fought in this challenging terrain. This peaceful ambiance enhances the overall experience and underscores the significance of the site.
3. Why 90% of tour companies still go to Ben Dinh?
As Ben Dinh is much closer to Ho Chi Minh City center, it will save tour operators a lot of money than bringing their guests to Ben Duoc as there will be less operation. That is why most of the tours will take you to Ben Dinh instead (especially the very cheap Cu Chi Tunnel tour).
Through that choice can earn more profit and, AN Tours Vietnam chooses not to visit Ben Dinh to maximize our customer experience, as it is our number 1 priority in service!
Visit our Cu Chi Tunnel Tour which takes you to Ben Duoc:
Easy for pushing tourists into shopping
There are a lot of touristy shops in and near Ben Dinh that tour operators can easily push their customers into. Earning commission from tourist shopping is the easiest way to earn money. That is why there are many cheap Cu Chi Tunnel Tours, as they don't earn from the tour itself.
4. Real customer reviews of Ben Dinh and the cheap tours to Cu Chi Tunnel
This article will be biased if we just analyze things only. In the end, AN Tours Vietnam always wants to bring the best benefits to international tourists. That is why we will attach some reviews of Ben Dinh, or tours to the place on TripAdvisor, which are written by expert travelers: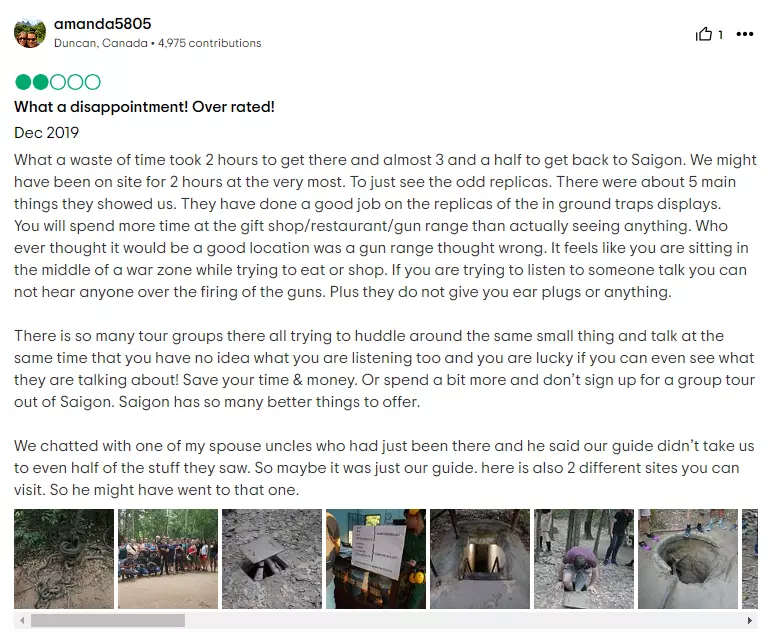 So, would you like to do a cheap tour that takes you to Ben Dinh, or just pay a few more bucks to get a totally different experience? We will leave the answer to you, as in the end, it is your trip, your choice.
5. Top recommended tour to Ben Duoc
Service: Tours, transfers, activities, visa, hotels,…
Locations available: HCMC, Hanoi, Da Nang, Hoi An, Nha Trang, Phu Quoc, Da Lat,…


CONTACTS:
info@antoursvietnam.com
+84 37 4463 732 (Henry) (Whatsapp/ Zalo available)
+84 70 6666 520 (Vincent) (Whatsapp/ Zalo available)