1. Cu Chi Tunnels - Mekong Delta: which one should you do in Vietnam?
In the heart of Vietnam's rich tapestry of experiences, two distinct popular destinations for travelers with their unique allure — the Cu Chi Tunnels and the Mekong Delta, which are close to travel from Ho Chi Minh City. For those who don't have much time here, or simply want to save time, choosing between these two remarkable destinations is a hard question.
That's why we will quickly discuss each place before going to our main topic.
Should you do Cu Chi Tunnels only?
Let's zoom in on the Cu Chi Tunnels. If you only have a keen interest in history, particularly the Vietnam War, the Cu Chi Tunnels is the place to go. They serve as a poignant testament to the resourcefulness and resilience of the Viet Cong during a turbulent period. Exploring the intricate web of underground passages offers a visceral understanding of the challenges faced by the guerrilla fighters. It's not just a historical site; it's an immersive experience, allowing you to crawl through tunnels and gain insights into the ingenious tactics employed during the war. The Cu Chi Tunnels provide a unique perspective on Vietnam's past, making it an excellent choice for those with a deep curiosity about wartime history and the human spirit in times of adversity.
However, unless you don't have time, or really really not interested in the countryside, we highly recommend you do both Cu Chi Tunnels – Mekong Delta in your Vietnam trip; not just Cu Chi alone.
Should you do Mekong Delta only?
Opting for the Mekong Delta over the Cu Chi Tunnels is a choice rooted in a different set of experiences. If you find solace in nature's embrace and are enchanted by the charm of traditional life, the Mekong Delta might be the ideal destination for you. A journey through the Delta unfolds a picturesque landscape of lush greenery, meandering waterways, and vibrant floating markets. It's a serene escape, offering a glimpse into the daily lives of local communities.
You should do the Mekong Delta without the Cu Chi Tunnels only when you are not really into history, or just want to avoid the atmosphere of the war. Or else, it is best to visit both to maximize your Vietnam trip experience.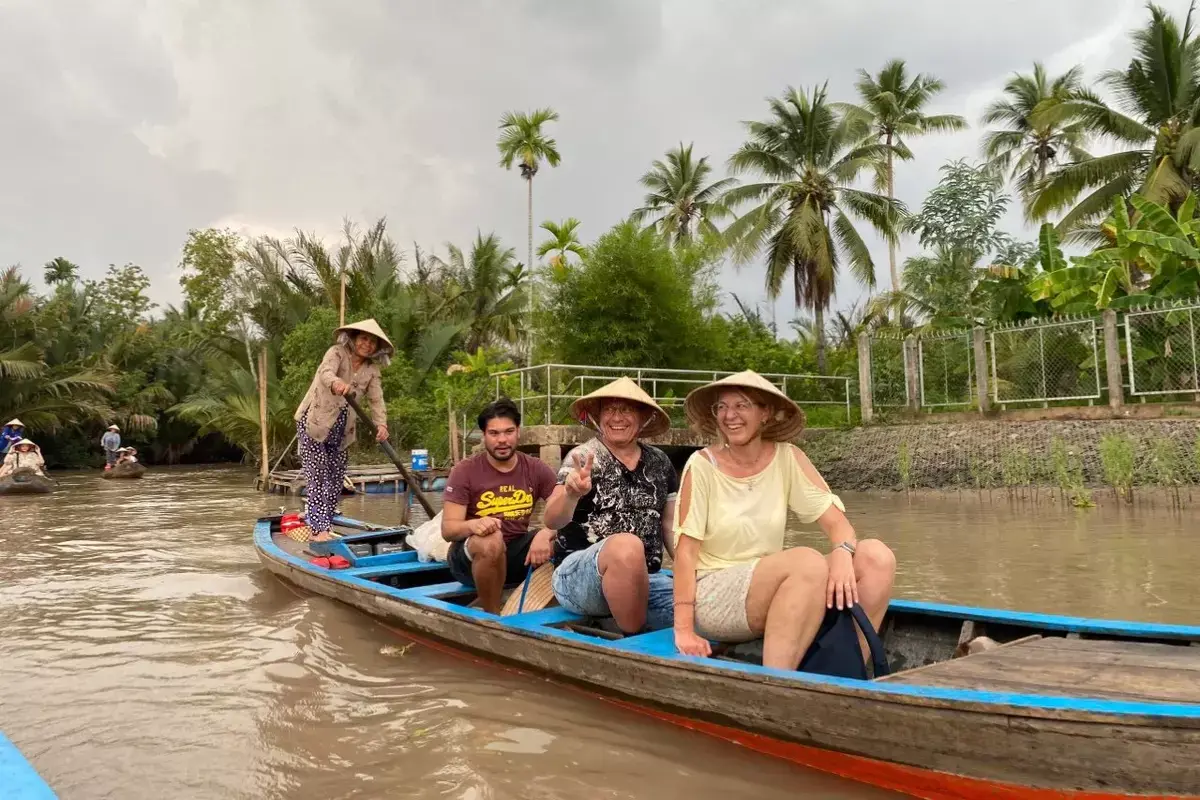 2. Cu Chi Tunnels – Mekong Delta: 1 day or seprate? - Factors that you must consider
Now you understand that it is best to do both Cu Chi Tunnels – Mekong Delta in your trip. We will come to the next part: Should you do the two in one or separate days? Here are some factors to consider before we jump to the final conclusion:
Deciding whether to explore the Cu Chi Tunnels and the Mekong Delta in one day or separately depends on your travel preferences and time constraints. If you have a limited schedule, doing both in a single day can provide a diverse snapshot of Vietnam's history and natural beauty. It's a packed itinerary that offers a taste of both wartime resilience and the tranquil charm of the Mekong.
However, if your time is not too limited, exploring both in one day may cause unnecessary rush, which also requires you to wake up earlier for the trip.
The distance of Cu Chi Tunnels - Mekong Delta
As you can easily see from the map photo above, the route from Ho Chi Minh City (District 1) to Cu Chi Tunnels – Mekong Delta is a reverse path, which is not really comfortable to travel. You have to go up about 70km northwest from the city center to Cu Chi, and then another nearly 100km to Mekong Delta.
So if you are traveling all in one day, it may be a little more tiring than doing them separately.
There will be differences in places to visit when you do the Cu Chi Tunnels – Mekong Delta one day instead of separate days, which will affect your experience. Here are the primary changes:
If you do Cu Chi Tunnels – Mekong Delta on separate days, you may be able to choose between Ben Duoc and Ben Dinh in Cu Chi. Ben Duoc will provide a much better experience compared to its similar place Ben Dinh. However, if you are doing all in 1 day, the only option to visit is Ben Dinh as there is not enough time to do Ben Duoc and turn to the Mekong Delta.
You can check the differences in this post: Exploring Vietnam's Cu Chi Tunnels: Why Ben Duoc Is Much Better Than Ben Dinh
In case you don't know: the Mekong Delta is actually a region that contains many cities and areas. The most popular places to visit in Mekong Delta are Ben Tre, My Tho, Can Tho,… which provide different experiences of Vietnam's countryside. Doing the Mekong Delta in a different day, you may be able to visit a place of your own choice. In case you do it with Cu Chi Tunnels in one day, the only option will likely be My Tho – which is the closest popular destination. 
Touristiness & experiences
Combining the Cu Chi Tunnels and Mekong Delta into a one-day tour is a convenient way to experience both attractions, but it often comes with a higher level of touristiness. These tours are popular among travelers, and the sites can become crowded, particularly during peak tourist seasons.
While the convenience of a one-day tour is undeniable, the downside is that you might have limited time at each site, and the experience could feel somewhat rushed. Additionally, popular attractions may have a more commercialized atmosphere with souvenir shops and vendors catering to tourists.
If you're seeking a more authentic and less touristy experience, consider dedicating separate days to each destination. This allows for a more relaxed exploration, giving you the opportunity to venture off the beaten path and discover hidden gems away from the main tourist routes.
Travel costs (whether you do tours or do it yourself) to Cu Chi Tunnels – Mekong Delta will be different in both cases. However, they will depend mostly on these factors:
Private tour or group tour
Inclusions
Tour operators
Number of people in your own group
Here are some examples:
Cu Chi Tunnels – Mekong Delta (one-day) private tour for 2 persons may cost more than group tour for separate days
If you are a group of 10, doing separate-day tours may cost less than one day.
From the factors that we've just analyzed in the previous part of this article, here are the pros and cons of visiting Cu Chi Tunnels – Mekong Delta in one day and in separate days:
Doing all in one day: Pros & Cons
✅ Pros:
Able to explore a lot in a limited time
Time-saving for those who are not interested in deeper experience
❌ Cons:
You will have to visit touristy places (Ben Duoc for Cu Chi, My Tho for the Mekong)
Rushed time
Getting tired of long traveling
Touristy experiences
Doing in separate days: Pros & Cons
✅ Pros:
Able to choose better experiences for each place
More time to enjoy, no rush
Deeper experiences, able to explore more of Cu Chi Tunnels – Mekong Delta
❌ Cons:
You will need to spend another half or full-day
Choose it depend on what you need
In conclusion, if you don't have much time in Ho Chi Minh City and around, and you don't care much about getting deep experience in culture and history, then doing Cu Chi Tunnels – Mekong Delta in 1 day only will be a good choice. Or else, it is best to do them on separate days, which will provide you with much better trips.
In case you want to book a tour, please contact AN Tours Vietnam:
Service: Tours, transfers, activities, visa, hotels,…
Locations available: HCMC, Hanoi, Da Nang, Hoi An, Nha Trang, Phu Quoc, Da Lat,…
CONTACTS:
info@antoursvietnam.com
+84 37 4463 732 (Henry) (Whatsapp/ Zalo available)
+84 70 6666 520 (Vincent) (Whatsapp/ Zalo available)