Things to know before shopping in Ho Chi Minh City
The language barrier when traveling is a big challenge for travel enthusiasts, as you may not understand the voice of your home country or even not speak English. Although Vietnam is an economically developed country, some salespeople do not communicate in English, especially older people.
Credit card use is now quite popular in Vietnam and many places accept payments with credit cards or QR codes for payment. However, you should also prepare cash when shopping in Ho Chi Minh City markets as some stalls in the markets only accept cash.
Bargaining when shopping in Ho Chi Minh City
Most of the items on the market in Vietnam do not offer a clear price so you can use it to get a reasonable price. The tactic here is that when the seller talks about the selling price of the product, take the figure equal to 50% of the offer price. You can leave without buying anymore and the seller may accept to sell to you at the price you provide.
Asian clothes are usually smaller in shape than European and American clothes, so make sure to choose large-size clothing and try clothing when shopping in Vietnam before buying. S = Small = Small, size S is understood as small size it is only a little bigger than size XS, for Vietnamese women it is 40 – 45 kg, and for men 50 – 55 kg for Asians, and Vietnamese. In addition, you can add 5 kg per size.
Buy high-priced goods, the seller says to challenge the price and force you to pay more than the actual value of the product.

Scammed to buy low-quality products.

Some sellers are enticed to buy, if not, they will be intimidated.

Incorrect refund of excess money to foreign tourists.
What to buy where are the best Shopping Places in Ho Chi Minh City
If you are traveling in Ho Chi Minh City without knowing what to buy, AN Tours Vietnam has some suggestions about shopping, such as buying silk, clothes, shoes, painting, and some handicrafts that are made very carefully.
In addition to Hoi An, where there are many famous tailors and silks, you can still buy silk in Ho Chi Minh City. Silk is considered naturally made from silkworms grown in the manual stages. All the processes are done manually without any mechanical interference. In the past, we often referred to this type of clothing as the king, the upper class. But with the popularity as it is now, it has been widely used by people, just loving them is being. This is also the reason why this fabric is widely used in clothing or accessories and even decorations. Silk is the best choice ever when travelers go shopping in Vietnam. You can take silk sewing clothes and Ao Dai because they are very comfortable. 
Places travelers can buy silk in Ho Chi Minh City: 
Although there are many well-known brands in the world such as Louis Vuitton, Gucci, Moschino, HM, Zara, etc. have been present in Vietnam, the Vietnamese people still prefer cheap clothes. Many local Vietnamese brands are very popular with foreign tourists because the price is not high but the code pattern is diverse. Tourists who go shopping in Vietnam will be overwhelmed by the variety in the color of clothes and the choice. Some places that sell clothes in Ho Chi Minh City that AN Tours Vietnam suggests:
Crafts (or crafts) are made entirely by hand with the help of simple tools, which are the result of the hands of the craftsman. They demonstrate the beauty of ingenuity, and meticulousness in traditional techniques. It is therefore that craftsmanship art carries several distinct characteristics. Handicrafts are the thing that travelers must buy in Vietnam.
Vietnam Handicrafts: 
Wooden carvings

Bamboo and rattan items 

Ceramics
Places travelers can buy handicrafts:
Where to buy fake designer brands in Ho Chi Minh City?
This is one of the places that many tourists are interested in when shopping in Ho Chi Minh City. In Ho Chi Minh City, there are many places to sell knockoff designer brands because of the demand to buy branded items but the cheapness of tourists and Vietnamese people is also quite high. Some places to sell knockoff designers brands that you may know:
Ben Thanh Market:

Ben Thanh Market is very famous in the foreign travel community by concentrating many replica items, knockoff designers brands from handbags, valy to clothes. Tourists can easily find many interesting things when visiting Ben Thanh Market
           Location on the map: Ben Thanh Market 
Russian Market:

The Russian Market is famous for its styles of clothes that are worn in winter and are quite inexpensive compared to buying in other countries. Tourists can buy hoodie shirts, warm-keeping shirts here.
Location on the map: Russian Market
Saigon Square:

This is the shopping place of international travelers with many knockoff designer brands, beautiful, diverse, many colors and pretty good quality.
Location on the map: Saigon Square
Nguyen Trai Street:

Nguyen Trai street not only concentrates the famous brands but also has a specialized area selling clothes, accessories, shoes, knockoff design brands at fairly cheap prices, and many options.
Location on the map: Nguyen Trai Street
When shopping in Vietnam, don't forget to buy shoes and sandals. Vietnamese leather shoes are very famous in the international community for durable leather materials and not too high prices. Leather and sandals in Vietnam are made of real leather so the leather material is very durable. Cow leather is the most commonly used leather to make leather shoes in Vietnam. The pores of the cow's skin are round. Not together and distributed equally. The structure of particles and skin fibers is tight, thin, and light. Easier to preserve than other types of skin. This is also the reason why Vietnamese shoe manufacturers choose cow leather for shoes. But if you are opposed to killing animals, there are still many places in Ho Chi Minh City that sell fake leather shoes, but the quality is still very good. 
Places travelers can buy shoes and sandals in Ho Chi Minh City: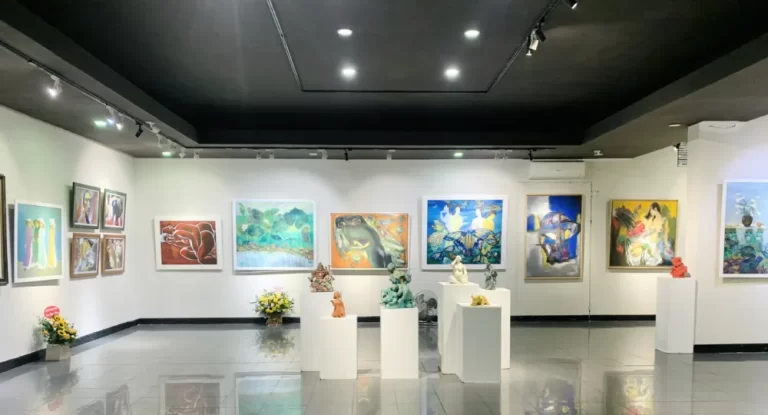 If you are a lover of art and have a passion for collecting but painting paintings such as oil painting, grinding paintings, etc, then Ho Chi Minh City is the paradise of art. In Ho Chi Minh City there are regular exhibitions and you can visit. When shopping in Vietnam, tourists can also buy paintings at home and bring them to friends and family.
Some places to sell a painting you can buy:
Top markets in Ho Chi Minh City for an ultimate shopping spree
In Ho Chi Minh City many wholesale markets and retailers are selling many necessary and interesting items that you can buy as souvenirs or gifts to family and friends.
Some markets where tourists can be shopping in Ho Chi Minh City:
Ben Thanh Market

: Ben Thanh Market is considered the symbol of Ho Chi Minh City and is an ancient market. Ban City Market is famous among the international tourist community for trading a variety of goods and has a rich cuisine area. The salespeople at the Burkina Faso market are quite friendly to tourists and you can pay for your goods.
Location on the map: Ben Thanh Market 
Binh Tay Market:

this is a market that has a large and diverse quantity of goods and a long-standing market in the Chinatown of Ho Chi Minh City. If you need to shop in Ho Chi Minh City and buy a lot of items in large quantities then the Binh Tay Market is the ideal place for you. Binh Tay is the largest benchmark market that offers a vibrant trade culture in a lively atmosphere. A wide range of crafts, brush paint, textiles, and fresh products are widely exhibited with a variety of styles and codes.
Location on the map: Binh Tay Market 
Soai Kinh Lam Market:

fabric is the thing that foreign tourists buy most when shopping in Vietnam. The clothes in Vietnam are quite cheap, there are many different types of codes. Soái Chamin is a famous fabric-selling place in the city where you can come to buy clothes to sew, as gifts. 
Location on the map: Soai Kinh Lam Market 
The tour has a reasonable shopping guide
To buy quality items and souvenirs to give to celebrations, friends and as a souvenir, you should not go alone because you are traveling in a strange country. Go to AN Tours Vietnam right away because, at AN Tour Vietnam, you will often combine sightseeing with shopping. This helps tourists have new experiences when traveling and know where to shop in Vietnam. 
AN Tours Vietnam not only guides tourists to the famous places of Ho Chi Minh City but also brings visitors to enjoy local specialties and helps tourists buy them as gifts. AN Tours Vietnam always follows tourists when shopping so you can be completely confident about the price and not worry about being challenged when shopping in Vietnam. 
For more helpful information about tours and planning to travel to Ho Chi Minh City, contact AN Tours Vietnam for the most detailed advice!
See more at AN Tours Vietnam