One of the interesting things to do in Ho Chi Minh at night is join a food tour. Ho Chi Minh City is a place with a rich cuisine and the convergence of the quintessence of many cuisines across the country, including the cuisine of all three regions of the South, Central, and North. In the evening, restaurants and food courts are active and you can join a food tour to enjoy local dishes in Ho Chi Minh City. Street foods in Ho Chi Minh City always have an undeniable attraction because they are not only delicious but also cheap and have a distinct, characteristic flavor of this place. Some food tours that tourists when coming to Ho Chi Minh City can join: 
Local Night Food Tour By Scooters:
Scooters are a popular means of transport for Vietnamese people, and they make up a large part of people's lives here. The interesting thing to do in Ho Chi Minh City at night is to enjoy the local night food tour by scooters. Traveling to enjoy food by scooters will be more convenient and faster, suitable for enjoying street food. Coming to Local Night Food Tour By Scooters, tourists will enjoy the view of Ho Chi Minh City at night as well as know more attractive dishes and activities such as: 
Enjoy Bun Thit Nuong – Rice Noodle With Grilled Pork: It is a dish that originated in the South of Vietnam, and later spread widely in many parts of the country. Each place can have its unique flavor depending on the taste of each place. This noodle dish can be used as a breakfast or a main meal. The requirement of vermicelli with grilled meat is that the meat is grilled evenly, with a rich taste and aroma of lemongrass and sesame; sweet and sour fish sauce just eaten, and a variety of accompanying vegetables.
Enjoy Banh Xeo, Banh Khot – Vietnamese Pancakes & The Mini Ones: Banh Xeo, Banh Khot are a popular cake in Vietnam. Banh Xeo, Banh Khot has dough on the outside, and the inside is filled with shrimp, meat, bean sprouts, kimchi, potatoes, chives, shrimp, and meat. cabbage is fried yellow, molded into a circle, or folded into a semicircle.
Visit the biggest flower market in Ho Chi Minh City: visiting the biggest flower in Ho Chi Minh is one of the things to do in Ho Chi Minh at night. Coming to the flower market, tourists can see more beautiful and colorful flowers and can buy some souvenirs at this flower market.
Street Food Street: next to the flower market is an extremely busy and vibrant food street with many attractive and diverse food stalls. Tourists can experience an evening of dining like a true local here.
Eating Bo Kho – Vietnamese Beef Stew: braised beef is a dish made from beef with braised method, originating in the South of Vietnam. This dish is loved by many people. Originally, Braised Beef was used by Southern Vietnamese people with a variety of coriander, to enhance the flavor of the dish.
A ride through 100% local life: explore several districts of Saigon on the back of the bikes, which are peacefully beautiful and unreachable by tourists. The far-away District 7 will be the last stop for the trip.
Local Night Walking Food Tour:
If you visit Ho Chi Minh City, one of the big things to do in Ho Chi Minh at night is to join the Local Night Walking Food Tour. When participating, tourists will have authentic experiences about restaurants that few people know and enjoy attractive Vietnamese dishes as well as experience walking to see the peaceful scenery in Ho Chi Minh City. Chi Minh.
The tour includes: 
Special Mountainous Area Food: Tourists will enjoy special dishes, little known by tourists and tours and a special dish is "Pho Chua Dac Biet – Special Sour Noodles" and "Banh Cuon Trung – Egg Steamed Rice Roll".
Mini cooking class: The tour focuses mainly on experiential tourism so after enjoying the food, tourists can also experience making that food themselves, this will be the to-do list of things to do in Ho Chi Minh at night.
Enjoy eating Bo Nuong La Lot – Grilled Beef Wrapped In Wild Betel Leaves: A popular dish in the Southern region, Vietnam with main ingredients from beef, guise leaves, and indispensable fish fat. The dish is served with raw vegetables, green bananas with star fruit, and seasoned fish sauce. This is also a great drink with draft beer.
Local sightseeing: Enjoy that 100% local area without a single tourist. Travelers will walk for 5-10 minutes through a local night market and small roads that show the true life of Vietnamese.
Organic special banana ice cream: Completely solidified cream, has the ivory white color of coconut milk. When eating, you can feel the crunchy aroma of peanuts, the greasy taste of milk and coconut milk, and the soft taste of ripe bananas. This is the most delicious dessert in Vietnam.
Special grilled Vietnamese bread: Salt and chili toast causes fever because this is a delicious, strange, and very rich dish that attracts gourmets. Crispy salted chili toast with butter flavor mixed with spicy chili sauce, satay, and greasy mayonnaise, served with sausage and fragrant cotton balls
2. Visit Nguyen Hue Walking Street:
When traveling, things to do in Ho Chi Minh at night are to visit Nguyen Hue Walking Street. Nguyen Hue Walking Street has long become an attractive destination not only for tourists but also for locals in Saigon. Besides the main street, around this street, there are also many interesting things that you may not know. This lively pedestrian street is located on Nguyen Hue Street, in District 1, Ho Chi Minh City, extending from the headquarters of the City People's Committee to Bach Dang Wharf.
Some activities for travelers at Nguyen Hue Walking Street:
Take photos: Nguyen Hue Street is likened by many people to a certain overseas street, with no electricity, no garbage, and a neat street with lanes reserved for pedestrians everywhere. The long road is paved with clean granite with 2 fountains, and a system of trees and flowers is decorated vividly. In the evening, the lights here as well as the lights from the eateries, restaurants, and cafes shine, creating beautiful moments. Therefore, for those of you who are passionate about photography, and like to have sparkling photos, just come here and there are all the necessary contexts.
Walking along Nguyen Hue Walking Street: Not only the main pedestrian street is the most bustling and lively. Besides, the surrounding streets also have many interesting nooks and crannies that young people will surely be attracted to.
Explore some street food: Tourists can eat grilled rice paper, fried fish balls on the walking street.
3. Go shopping at the big markets
It is not natural that Ho Chi Minh City is known as the "city that never sleeps' '. Because when night falls, the atmosphere here is still crowded and bustling, not quite. In particular, experiencing the Ho Chi Minh night market is one of the activities not to be missed for anyone, not only shopping but also having the opportunity to enjoy many famous delicacies of Ho Chi Minh City. Things to do in Ho Chi Minh City at night for travelers go shopping at some big markets.
Walking around Ben Thanh night market, visitors will be attracted by a series of large and small stalls, selling all kinds of different items, many of which are suitable for buying as gifts for loved ones such as lacquer paintings, Embroidery paintings, oil paintings, ceramics,… Especially, like other night markets in Saigon, the food court of Ben Thanh market is also very busy. This place fully converges the delicious dishes of the three regions of the North, Central, and South, giving you an interesting "walk" of taste: fragrant Hanoi Pho, rich Hue beef noodles, or other dishes. Famous street snacks of Saigon: Mixed rice paper, baluts, etc. 
Address: Le Loi Street, Ben Thanh Ward, District 1, HCMC
Opening hours: 20:00 – 02:00
Location on the map: Ben Thanh Market 
Things to do in Ho Chi Minh at night are shopping at Hanh Thong Tay Market. Hanh Thong Tay Market is located in the Go Vap district with more than 400 stalls, mainly selling fashion-related products. Hanh Thong Tay Market is also a good wholesale clothing market in Saigon with prices ranging from 60,000 – 120,000 VND/product. Therefore, this is also one of the cheap Saigon night markets that many people are interested in. This bustling market not only attracts young people but also attracts the attention of many international tourists.
Address: Quang Trung, Ward 11, Go, Vap District, HCMC
Opening hours: 
Shift 1: Operating from 18:00 to 23:00, including items such as: Food, footwear, clothing…
Shift 2: Operating from 11 pm to 7 am the next day, including goods such as Fruits of all kinds poured by small traders from the western and eastern provinces.
Location on the map: Hanh Thong Tay Market 
Ho Thi Ky Market ​​​​is one of the bustling Saigon night markets in the city, also known as the repatriated Viet Kieu market, the Cambodian market. At the same time, this is also the largest and oldest wholesale market of fresh flowers in the city. In addition to buying flowers and taking pictures, Ho Thi Ky night market cuisine is also an attraction for many tourists to come here, in which the most popular dishes are: beef hot pot, crab soup, Cambodian sweet soup, and cake. 
Address: 52 Alley, Ho Thi Ky Street, Ward 1, District 10, HCMC
Opening hours: 12:00 – 00:00
Location on the map: Ho Thi Ky Market 
The list of things to do in Ho Chi Minh City at night is to visit Ho Chi Minh City on the river. Water bus Saigon is uniquely designed with the main color being yellow, combined with black and white, looking quite brilliant. The train is spacious and designed with 6 rows of seats with a total seating capacity of up to 80 seats. Besides, the Saigon Water bus is also fully equipped with life jackets and amenities such as televisions, clocks, signal lights, restrooms, etc. to serve the trip of tourists to the fullest extent. Experiencing a bus ride on the river, you will be able to see the whole romantic city of Saigon from a different angle. Prominent are the rows of high-rise buildings such as Landmark 81 and many urban areas stretching along the river. Saigon Water Bus route:
Weekdays:
Routes: C1, C2, C4, C5, C7, C8, C10, C11, C13, C15
Return leg: L1, L2, L4, L5, L8, L10, L11, L13, L15.
Saturday, and Sunday:
Additional leg: C3, C6, C9, C12, C14
Additional leg: L3, L6, L9, L12, L14.
Water Bus Saigon moves and stops to pick up and drop off passengers at 9 main stations in order, including Bach Dang Wharf, Saigon Pearl Wharf, Binh An Wharf, Thao Dien Wharf, Tam Vu Wharf, Thanh Da Wharf, Binh Trieu Wharf, Hiep Binh Chanh Wharf, Linh Dong Wharf.
Ticket price: 15,000 VND/turn
Address: 4 Ton Duc Thang Street, Ben Nghe Ward, District 1, HCMC
Opening hours: 8:30-21:00
Location on the map: Saigon Waterbus
5. Bui Vien Walking Street
Already famous for its lively bars and clubs throughout the night, Bui Vien Walking Street has become an extremely familiar entertainment and entertainment destination for young people, especially for domestic and foreign tourists. This is considered a great choice for those who love the hustle and bustle. Currently, most of the business establishments in Bui Vien walking street are operating in the service sector, including restaurants, cafes, bars, pubs, karaoke, and hotels… In addition, you Essential services such as pharmacies, healthcare facilities, or motorbike rentals can be easily found. All of these businesses are open almost all night to be able to serve tourists from all over the world. If you are a genuine tourist, you should not miss the unique and interesting entertainment experiences at Bui Vien walking street on 2 weekends. With many unique art performances, from the street to the sidewalks, the atmosphere became more lively than ever. 
Address: Bui Vien Street, Pham Ngu Lao Ward, District 1, HCMC
Opening hours: 18:00-2:00
Location on the map: Bui Vien Walking Street
6. Nguyen Van Binh Book Street
If you are a person who loves to read and loves to immerse yourself in the world of literature as well as fascinating novels, visiting Nguyen Van Binh book street is one of the big things to do in Ho Chi Minh at night. As the first book street complex in Vietnam, Nguyen Van Binh's book street converges many famous bookstores across the country. There are more than 20 booths belonging to publishing companies and units such as Ho Chi Minh City General Publishing House, Kim Dong, Nha Nam, Thai Ha, and Alpha Books. So you can freely choose your favorite genre here. Coming to the book street, you will be immersed in the colorful "book paradise", discovering all kinds of books from politics, society, literature, science to culture, foreign languages ​​, and many other genres. This is also a familiar place to buy books for readers. You can find books that many other places don't have, and the prices are extremely affordable. 
Address: Nguyen Van Binh Street, Ben Nghe Ward, District 1, HCMC
Opening hours: 8:00-22:00
Location on the map: Nguyen Van Binh Book Street
Bach Dang Wharf is a famous wharf in the heart of the city and has a direct view of the Saigon River. In the past, Bach Dang Wharf was also the busiest commercial port in Saigon. And today, together with Thu Ngu Flagpole, Nha Rong Wharf, Mong Bridge, Statue of Saint Tran Hung Dao, cannon, and Bach Dang Wharf have created the heritage axis of Saigon, marking historical values. the formation and development of the city. Tourists can take pictures to check in at Bach Dang Wharf because when night falls, the bright lights from luxury yachts make Bach Dang Wharf more shimmering and fanciful. Come to Bach Dang Wharf in the evening if you want to feel the splendor of Saigon. On beautiful evenings, the people of the city often gather here to enjoy the fresh air, watching a sparkling and brilliant Saigon at night at the riverside. The immense river system and the romantic scene at Bach Dang Wharf are also very suitable for the development of floating restaurant services. Restaurant ships moored in perfect locations, embracing the beauty of the prosperous place will bring you luxurious, relaxing but not too expensive dinners.
Address: 27 Ton Duc Thang Street, Ben Nghe Ward, HCMC
Opening hours: 8:00-21:00
Location on the map: Bach Dang Wharf
8. Tips to stay safe when traveling Ho Chi Minh City at night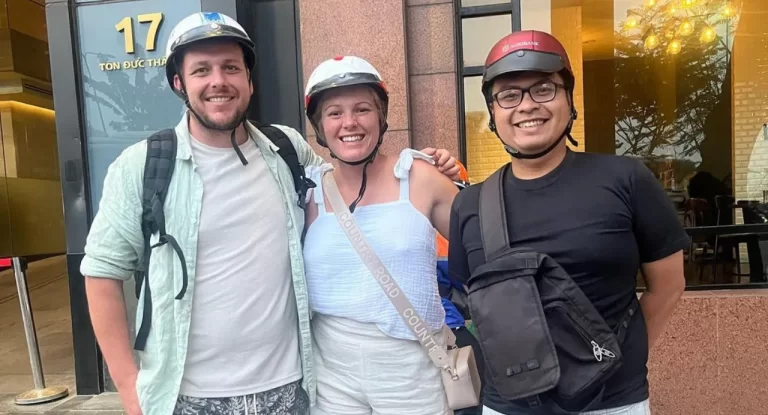 Stick to Crowded Areas:

If you are a solo traveler, the things to do in Ho Chi Minh City at night are always standing in the crowd so that when something happens you will be helped.

Know the Area Beforehand:

Before going to a new place, tourists should check the situation of that place online as well as ask hotel staff and people around for guidance.

Inform your family and friends about the place you are going:

this is extremely important and your loved ones will know where you are, safe or not.

Travel through a travel agency:

Going on a tour will help tourists be safer as well as the trip will be planned. Choosing to go on a tour is extremely necessary because a guided tour always closely follows and takes care of tourists. Traveling by tour, tourists are transported by private car and ensure more privacy and comfort.
Book a tour at AN Tours Vietnam 
Ho Chi Minh City is a beautiful city and well worth the tourists to visit and experience. There are many things to do in Ho Chi Minh City at night waiting for you to discover because this is a vibrant city, with friendly people and delicious food. To explore Ho Chi Minh City and know many interesting activities, contact AN Tours Vietnam for advice.
See more at ​​https://antoursvietnam.com/