1. AN Tours Vietnam & our sustainable travel plan
Founded in 2017, AN Tours Vietnam is one of the top recommended travel companies. We provide the best chosen Vietnam travel experiences like tours, activities, airport transfers, transportation, private car,… in many cities like Ho Chi Minh City, Hanoi, Da Nang, Hoi An, Nha Trang, Phu Quoc,…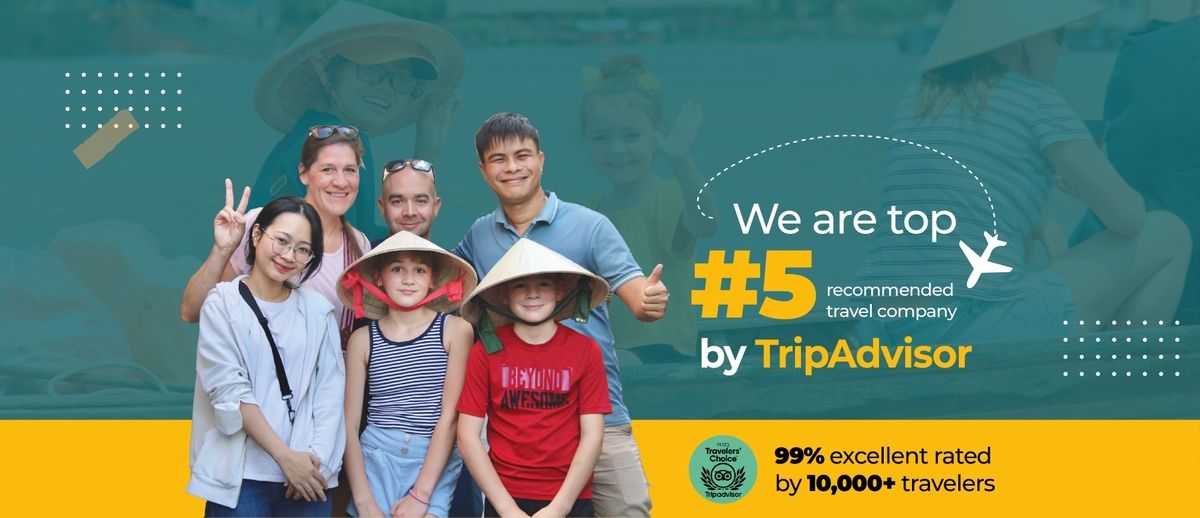 Unlike most of the tour operators out there, we don't provide many services, but would rather focus on the quality of each one, which is the best chosen from many factors. Most of our tours will be private, or only small groups which maximize all Vietnam travelers' experiences.
To browse for Vietnam tours, please visit our page All VIETNAM TOURS.
For a sustainable Vietnam travel industry
Vietnam is a beautiful country with a rich culture and resources. Traveling with an environmentally friendly mindset is necessary in Vietnam to protect natural resources, conserve biodiversity, mitigate climate change, respect local communities, enhance travel experiences, and promote a positive reputation. By embracing sustainable travel practices, we can contribute to the long-term sustainability and well-being of Vietnam's tourism industry.
AN Tours Vietnam is taking a remarkable step towards sustainable tourism with our limited promotion. When you embark on one of our exceptional Vietnam tours, you won't just explore the beauty of Vietnam; you'll also receive a thoughtful gift – a free pack of reusable bamboo straws. This eco-friendly initiative not only enhances your travel experience but also supports environmental conservation, making your journey with AN Tours Vietnam an adventure with a positive impact.
2. Our limited promotion: FREE reusable bamboo straw pack for tours booked
About Vietnamese bamboo straws
In Vietnamese culture, bamboo holds great significance and is often referred to as "tre" or "cây tre." It symbolizes strength, resilience, and flexibility, qualities that are admired and valued in Vietnamese life. Bamboo is deeply rooted in Vietnamese traditions and can be seen in various aspects of daily life.
Bamboo is widely used in construction, handicrafts, and household items. Its versatility and durability make it a popular material for building homes, bridges, and furniture. Bamboo is also utilized in the creation of traditional musical instruments, such as the dan bau and dan tranh, adding a distinct cultural element to Vietnamese music.
Vietnamese bamboo straws have become a popular choice for those seeking an eco-friendly alternative to plastic straws. Made from sustainable and renewable bamboo, these straws are not only durable but also biodegradable. By opting for bamboo straws, you can reduce your plastic waste and contribute to the preservation of our environment. Not only are they safe and natural, but they also support local communities through their production. With their rustic and charming aesthetic, Vietnam bamboo straws add a unique touch to your beverages while promoting a greener and more sustainable lifestyle.
For each booking for private tours in Ho Chi Minh City, you will receive a free pack of Vietnamese bamboo straws as a souvenir. These bamboo straws are made in the countryside by Vietnamese locals to support them.
FREE BAMBOO STRAW PACK PROMOTION
Environment friendly
If you love nature, and want to protect the Earth, this gift is for you. It is reusable, easy to biodegrade, and safe!
Useful for traveling
If you are traveling in Vietnam, you may realize that many drinks require straws. To avoid dirty plastic ones, bamboo will be the best.
Support locals
All of our free bamboo straws are made in the countryside by Vietnamese locals as a way to support them.
Free Vietnam souvenirs
If you are looking for a souvenir that is so "Vietnam" in your trip, our bamboo straws are the perfect choices.
There should not be limitations in this environment-protecting campaign. However, as we have difficulties in logistics and supply chains, there will be some to this promotion:
This promotion is only applied to private tours
This promotion is only applied to tours in Ho Chi Minh City
As the quantities of bamboo straws are limited per month, they may run out soon. Please book a tour in advance so that we can prepare them for you.
Service: Tours, transfers, activities, visa, hotels,…
Locations available: HCMC, Hanoi, Da Nang, Hoi An, Nha Trang, Phu Quoc, Da Lat,…
CONTACTS:
info@antoursvietnam.com
+84 37 4463 732 (Henry) (Whatsapp/ Zalo available)
+84 70 6666 520 (Vincent) (Whatsapp/ Zalo available)